Hypochlorous is one of the most effective biocides on the planet. 
It has the chemical name HOCL, and it is the same substance found in the human immune system making it nature's own germ killer.
Furthermore, hypochlorous acid is non sensitising to our skin and eyes but will kill 99,9999 % (log 6 reduction) of the germs on any surface, all within the first few seconds.
In itself hypochlorous acid is around 100 times more effective than bleach!
It not only kills 99.9999% of all bacteria, viruses, moulds and fungi on hard and soft surfaces but it will also sanitise the air, killing any harmful germs in the room. All this without causing any stains or dark spots on the floor and furniture.
Whether used as a spray or via a fogging machine hypochlorous can sanitise any area in minutes without any impact on the welfare of staff, workers or pupils.
Last, but not least, our hypochlorous solutions are water based and therefore non-flammable unlike ethanol-based products. Once empty, used packaging is not classified as hazardous and does not need to be treated as
hazardous/special waste.
Our manufacturer Aqualution is the market leader in the science, manufacturing and application of hypochlorous
sanitisers for surfaces and hands
We provide sanitisers for both surfaces and hands, as we want to cover all areas when it comes to removal of bacteria. Our mission is to provide our clients with professional tools for infection prevention.
Therefore, not only do we provide sanitisers in the likes of sprays for surfaces, but also a gel meant for sanitising your hands, to ensure protection after contact with contaminated surfaces.
Check out both our sanitiser options below.
Does not stain.
Kills 99,9999% of bacteria within seconds.
Works on wet surfaces as opposed to ethanol-based products.
Makes it possible to wash and disinfect at the same time. 

Waterbased/Non-flammable.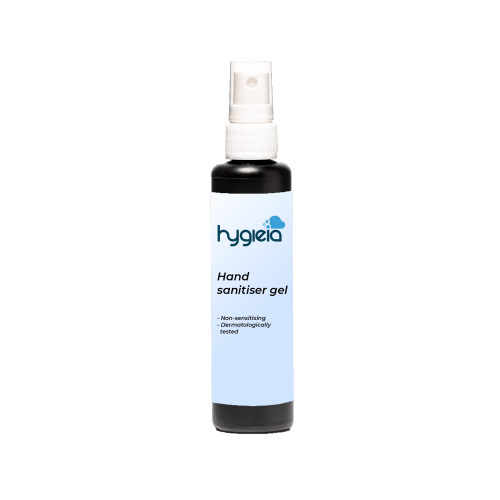 Does not stain the floor when spilled.
Does not dry out your hands unlike ethanol based sanitisers.
Works in moist and wet conditions – more effective if your hands are already wet.

Waterbased/Non-flammable.
Our hypochlorous has an excessive 12-month shelf life when stored correctly in black bottles
everything you need to know about hypochlorous
Exceptionally effective
A ready to use hypochlorous (HOCl) solution that kills 99.9999% of all known bacteria, viruses and spores.
Extremely fast
Kills in seconds by destroying harmful pathogens on contact.

Alcohol free hand sanitiser and skin disinfectant
Contains no alcohol or harmful chemicals – ideal for sensitive skin.

No PPE required
As there are no hazardous chemicals it is suitable to use without protective clothing or Personal Protection Equipment.
pH neutral
Non-sensitising and non-irritating to even the most sensitive skin.

Vegan and halal friendly
Manufactured to be suitable for vegans and halal certified.
Vigorously tested and clinically proven
BSEN 1276, BSEN 13704, BSEN 1656, BSEN 13727, BSEN 14476, BSEN 14204, BSEN 13697, BSEN 1500, BSEN 1650.
Complete odour elimination
Completely eliminates all smells including urine and body odours.
Effective on all surfaces
Suitable and safe for both hard and soft surfaces with no staining.
Long shelf life
12-month shelf life when stored correctly in black bottles.
Air sanitising
Fully effective air sanitising when used with approved fogging machines.
Ideal food sanitiser
Perfect for sanitising food on the go as well as shopping.
100% Certainty
Manufactured by the global leaders in the science, manufacture and application of pure hypochlorous.
Not classified as hazardous waste
Empty packaging is not classified as hazardous and does not need to be treated as hazardous/special waste.
Comparing hypochlorous to other disinfectants